Here is how it works:
Each month we will pick a quote, the quotes we choose are women's words… get it? That's What She Said.
The linkup will run for 2 weeks.
We will pin and feature our favorites the following month.
You will always know what the next month's quote is, we will have it posted here, and sent to your inbox!
What are the rules?
Please only linkup posts inspired by the quote of the month. We want to see how this quote will get your creative juices flowing.
We would like for you to connect with others, please visit the person who linked up before you, and go show some love.
It would be AWESOME if you would share the linkup via your social media. #That'sWhatSheSaidLinkUp
Of course it's always fun to connect, let's follow each other along.
Number one rule: Have fun and be creative ♡
Your Hosts
Courtney: What's Up With the Wilhelms
Our pick from last month's linkup:
Jen from Drinking the Whole Bottle
The Legacy I Want to Leave Behind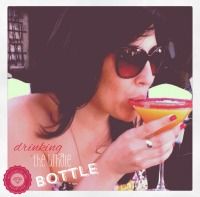 This month's inspirational quote:
I don't think there could be a quote that is more meaningful to me right now. I just very recently came Out of the Fog: Grief and Fear, and as I continue to embrace my new life as a single mother, I'm in a constant process of mending my heart and healing the broken, burnt and torn seams of my emotions. It's a journey that I expect will take me a great amount of time to complete, with valleys lower than I can even imagine, moments of clarity right alongside moments of darkness, but ultimately, joy and victory and a coming into my own that will make the path I've traveled worth every moment. That is truly the beauty of life. You can be shattered and ripped apart from the inside out, and still journey to a better and higher place of love and being. To believe that one day I'll actually be grateful for this season in my life is a light at the end of the tunnel and a thread of hope to cling to in my worst moments. I want to be lovely with life…a real life, that is bent and bruised, but refuses to accept defeat. I want to reflect the beauty of the broken, the discovery that is found in healing, and the light that pulses in the dark, moving me forward, equipping me to be more beautiful, more lovely, more able. I want those who know and love me, trust me with their most cherished parts of themselves, to be aware of the mountains that I have climbed so that they too can keep climbing. I want to inspire. The only way to do that is to feel every part of my life on every level in every, single way. A raw, transparent display of the many parts of me, all beautiful in their own ways. What parts of your shattered life do you find the most beauty in?
Here's what's coming in December…be inspired!